Livgrenadjärmässen has a rich history with its origins in the Livgrenadjär-regiment, which was laid down in 1997. It was one of the oldest regiments in the world, with roots from the medieval lance fournies. It was a local regiment with conscripts from Östergötland. 1922 the regiment relocated from Malmen outside of Linköping, where they had trained since the 15th century, to the new barracks-area. Gustav III raised the regiment to the honour of being his personal protection force and house-regiment after their efforts in war with Russia.
"Livgrenadjärmässen Fest & Konferensvåningar AB" is a company whos purpose is to preserve a unique and historical venue.
Our historical and prestigious venue offers rooms and facilities perfect for conferences and festive events. Our customers are companies, institutions, organisations and individuals. Our mission is to preserve this beautiful and unique place till the last member of the regiment has left us. The company is owned by two officers-clubs with ties to the royal life-regiment and other regiments that where disbanded 1997.
The complex is owned by "Garnisonsfastigheter" and we are happy that they truly appreciate the value of the property. Livgrenadjärmässen is all that is left since the times of the regiments.
Representatives from both owner associations and people from the business community sit on the board. CEO Anna Wallentinson manages the daily operations.
The board:
Olof Sahlén – Chairman
Mats Österman – Member
Mats Löfgren – Member
Magnus Hallberg- Member
Kenneth Tapper – adjunct
Leif Carlsson – adjunct
The team
We are the team working at Livgrenadjärmässen. In addition to the three of us, extra staff is also working with us and we are always in need of new staff additions. Past experience is not a requirement, we care more about who you are as a person. You are welcome to contact us at kontakt@livgrenadjarmassen.se with your application
Facilities and venue
Here you will find descriptions and pictures of our rooms and premises here at Livgrenadjärmässen. Hover your mouse pointer over the images to read the descriptions.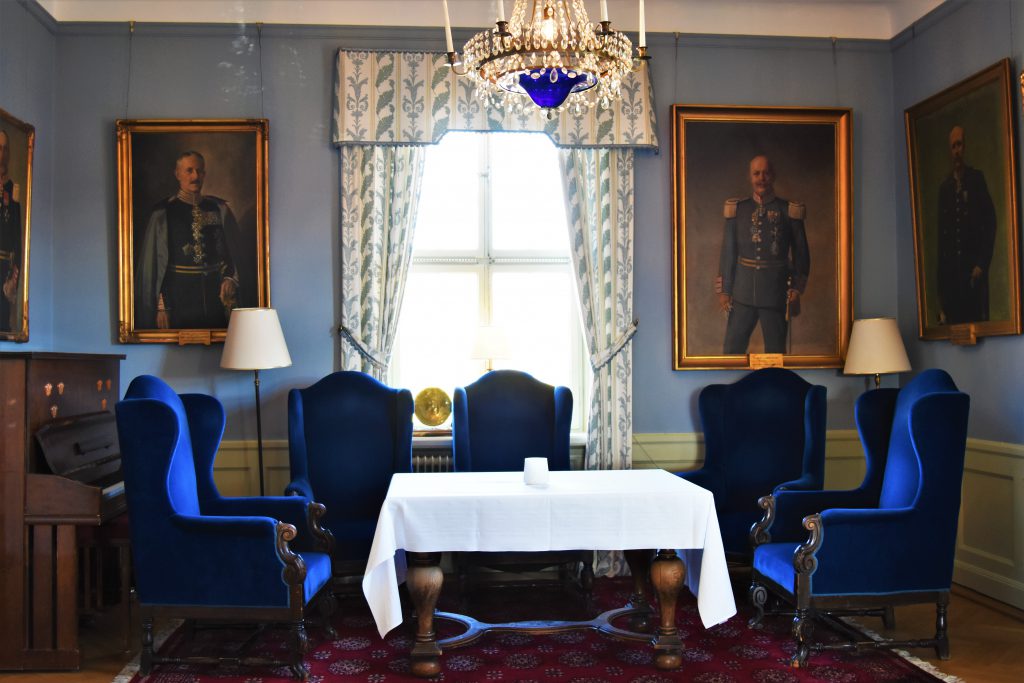 Blå rummet
This is called Gustav III room, because of the magnificent painting of Gustav the III. For festive events we serve drinks here. For conference events we use the rooms as a lounge and group-room.
Biblioteket
The library is the perfect venue for a relaxing sit-down and a wonderful place to enjoy something delicious. The library is great for meetings and interviews. The room is also a great choice for small conferences that don't require technical equipment.
Ryttarsalen
Here we serve lunch during conferences. If it is a large conference this is used as a conference room. It is also used for festive events.
Södra Banérrummet
This room is home to a large painting depicting Johan Banér, therefor the name. During conference events this is used as a group room or as a smaller alternative for lunch. It is also perfect for a relaxed dinner event. During Christmas we host traditional Swedish Christmas buffets here.
Norra Banérrummet
This room is right next to the southern Banér-room. It is perfect for board meetings. The room fits 20 people around the grand wooden table. It is also used as a group room or lunch room during events.During Christmas we host traditional Swedish Christmas buffets here.
Malmenrummet
During conference events in Ryttarsalen we serve lunch in Malmenrummet. Here we also offer coffee during festive events. The room is perfect for other events too, such as a cake room during weddings or buffets.
Ridderstads rum
Here classical and modern meet to create a unique environment. Historical paintings reside beside modern technology. The room fits up to 50 people during conference events. The room is also often used during weddings as the room of choice for the wedding ceremony.